When you're pregnant, your entire world changes… and so should your skincare routine. Skincare products can be absorbed into the body so don't risk anything that might affect your precious cargo!
It's well understood that your favorite cocktail has to go on hiatus for several months when you're pregnant, but it's vital that you treat some of your favorite skincare products the same way. Some ingredients in popular skincare products haven't been studied on pregnant women, and others simply aren't safe for the baby.
Fortunately, there is a way to create a pregnancy-safe skincare routine that helps you keep your skin healthy and keep harmful ingredients away from your baby. Have a look at some of out top pregnancy skin care products we have available!
Changes To Your Skin During Pregnancy 
Your body goes through a variety of changes while pregnant, especially your skin. Hormonal imbalances are to blame for some of the skin issues that impact many pregnant women, such as:
If you have pre-existing skin conditions such as rosacea or eczema, you may notice an improvement or worsening during pregnancy as well.
Ingredients To Avoid In Your Pregnancy Safe Skincare Routine
There are skincare products that are perfectly safe when you're not pregnant, but become questionable for safe use during pregnancy. It's important to note that the safety information available on different skincare products and ingredients is limited, mostly because you cannot ethically test skincare products on pregnant women.

Instead, we have to depend on specific case studies, anecdotal evidence, and animal testing to know if an ingredient is potentially harmful to your unborn child. Most experts agree that the following ingredients should be avoided when you're pregnant:
Hydroquinone
This is a prescription drug that is used to reduce skin pigmentation and lighten skin. It's a treatment for certain skin conditions such as chloasma and melasma, both of which are conditions that can be brought on by pregnancy.
Retinoids
Retinoids are a great tool in your skincare arsenal to fight the visible signs of aging, but you should not use them when you're pregnant. You can get skincare products with retinoids both by prescription and over the counter. Over the counter products have a low level of retinoids and the amount absorbed by the skin is likely low, but they're still not recommended.
Prescription skincare products have higher doses of retinoids and they have a demonstrated impact on the risk of congenital defects when exposed to fetuses, so make sure to let your doctor know you are pregnant if retinoids are brought up as a treatment option. 
Phthalates
These chemicals are found in a lot of personal and beauty products, so make sure to read the ingredient list carefully when you're pregnant. You can usually spot this ingredient under the name diethyl phthalate in skin care products.
Salicylic Acid
This is an ingredient found in many acne treatments, both over the counter and prescription. It has anti-inflammatory capabilities that make it a great acne treatment, but it's not recommended when you've got a bun in the oven.
Formaldehyde
Formaldehyde is rarely used as a disinfectant and preservative in beauty products because it's a known carcinogen. Still, you can find chemicals that release formaldehyde in cosmetics and other skincare products that can have dangerous side effects, both for the mother and the baby.
Avoid any products with these ingredients:
Quaternium-15
Bronopol
5-bromo-5-nitro-1,3-dioxane
DMDM hydantoin
Imidazolidinyl urea
Diazolidinyl urea
Hydroxymethylglycinate
Oxybenzone
Sunscreens should still be a part of your skincare routine when you're pregnant, but you must make sure it's not a chemical sunscreen that contains something called oxybenzone. While oxybenzone does help to filter UV light, it shouldn't be used when you're pregnant.
Pregnancy Safe Skincare
We understand you still want to care for your skin as well as you can when pregnant, so don't worry – there are several alternatives to help you conquer some of pregnancy's most frustrating skincare woes.
For Acne
If you're prone to breakouts, then you maybe even more so when you're pregnant thanks to all those hormones coursing through your body. Thankfully there are plenty of safe alternatives to help you deal with acne when you're pregnant.

We recommend products with glycolic acid since they are effective and safe. As long as they are not used in large quantities, they can help to clear your skin as well as brighten it.
Some of our favorite products to help you fight acne include: 
This non-irritating cream cleanser helps to wash away excess oil and debris to reveal healthier, clearer skin. It also works to soothe and calm skin that may be out of whack due to fluctuating hormones.
For days when you feel so tired that you can barely muster the energy to wash your face, reach for these handy glycolic acid pads. They gently cleanse, hydrate, and exfoliate the skin to help you keep it clear. This is also a great alternative to retinol (which is to be avoided during pregnancy).
Anti-Aging Treatments
You don't have to take a break from fighting back against time when you're pregnant! You can still combat wrinkles each day as long as you use the right ingredients.
It's recommended you use anti-aging creams that include antioxidants such as:
Green tea
Vitamin E
Vitamin B3
Vitamin K
Some of our favorite anti-wrinkle treatments that can be a part of your pregnancy-safe skincare routine include:
This daily lotion harnesses the power of Vitamin C to help brighten dull skin as it also delivers a powerful punch of Vitamin E to help reduce the appearance of wrinkles and fine lines. Vitamin C is especially powerful as it helps to keep the skin moisturized and radiant.
Take on wrinkles and dry skin with these hydrating drops. This product contains Vitamin B3 to soften the look of fine lines and wrinkles.
Hydrate your skin to fight fine lines with the help of green tea in this product. Also helps with redness and reduces pore size!
Stretch Marks and Dry Skin
Pregnancy places a lot of demands on your body. One of the many changes you can experience is dry skin from hormone fluctuations. Stretch marks can also be an inevitable side effect of making room for the baby.

But don't worry! You can fight back against dry skin and stretch marks with the use of moisturizing products such as hyaluronic acid and coconut oil. Some of our moisturizing favorites include:
Spa Momma – Itchies Be Gone! Organic Body Oil
Dry skin can be itchy, which is why you need something to help soothe and moisturize your skin. This oil helps to boost your skin's hydration and lock in moisture after you bathe for fresh, soft, and supple skin that doesn't drive you crazy with itchiness!
This serum is almost pure hyaluronic acid to help keep your skin hydrated. It's hypoallergenic and fragrance-free and a great choice for all skin types, pregnant or not!
If you have puffy eyes or dark circles, then go ahead and hydrate the delicate area under the eye with this product. It helps to moisturize, brighten, and plump skin around the eyes to help keep you looking fresh and rested.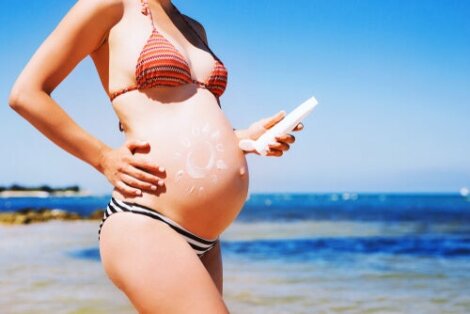 Protection from the Sun
Everyone, pregnant women included, need to ensure their skin is protected from the harmful rays of the sun. While you want to avoid chemical sunscreen during pregnancy, there are still many products out there that are safe and effective to keep your long-term skin protection game on point.

Mineral-based sunscreens are a great choice. Look for sunscreens that contain titanium oxide or zinc oxide and don't forget the protective clothing!
Some of our favorite pregnancy-friendly sunscreens include:
This daily sunscreen protects the skin with the help of zinc oxide. It also contains Vitamin B3 and hyaluronic acid to help keep your skin moisturized as it protects it from the harmful rays of the sun.
EltaMD UV Replenish Broad-Spectrum SPF 44
This sunscreen uses titanium dioxide and transparent zinc oxide to help physically block your skin from the harmful rays of the sun as its antioxidants work to repair the damage that may be caused by solar rays.
This physical fusion sunscreen boasts broad-spectrum protection against the harmful rays of the sun. Great for your whole body, this sunblock is water-resistant for up to 40 minutes and the high SPF factor helps to increase your skin's resistance to damaging UV rays.
Contact Us Today
Pregnancy safe skincare is important, so make sure to discuss with your doctor what products you can and can't use until after your baby arrives. In the meantime, you can count on our professionals at The Skin Spot to help you find the best skincare products for your skin, no matter what stage of life you may be at. Contact us today to learn more about our products and services.